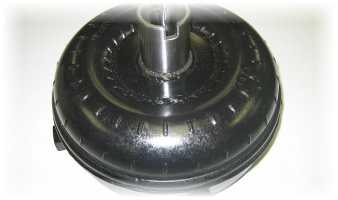 JW Torque Converter for TH400, TH350 and Powerglide (with TH input spline) Conversion
BDE has worked closely with JW Performance Transmissions to manufacture a hybrid TH400 / Nissan torque converter based upon their top-of-the-line 8" Ultra Comp model. Because of the premium parts used in the Ultra Comp torque converter, JW is able to provide a one-year limited warranty that covers defective parts and workmanship on this converter. In the event of a warranty claim, the customer is responsible for returning the converter to JW's facility in Rockledge FL.
Stall Speed:
Stall speed is best described as the maximum RPM that an engine can spin the converter while zero RPM is output to the transmission. Stall speed is the benchmark that everyone uses to compare torque converters, unfortunately the problem with comparing stall speeds is that the torque required to develop the particular stall speed is omitted from the comparison. For instance, one converter may take 500 ft-lbs to spin to 5000 RPM while another might require 800 ft-lbs to spin to the same 5000 RPM; because of the different torque values, they both are definitely NOT "5000 RPM converters".
The best way to get close to optimum stall speed with the first build is to provide dyno data to the converter manufacturer so they can tailor the stall speed to the torque output from the engine. Typically the optimum stall speed is roughly 500 RPM below the engine's torque peak. The first build is a best estimate especially with smaller turbo engines and their skyscraper-like torque curves. It is not unusual to need to adjust the stall speed of a new converter after installing and finding its true stall speed with its particular engine is not quite optimum. JW will perform one free stall speed adjustment to their converter up to 90 days from the date of purchase; when taking advantage of this, the customer is responsible for shipping expenses to and from JW's facility.
Email for price
Another picture available below. Click on the image for a larger view. (this will open a new window)