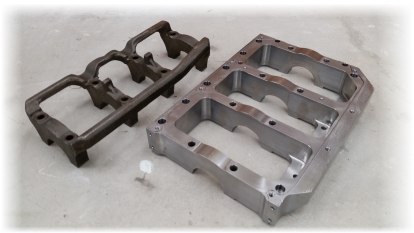 VG30DE(TT) Bedplate Assembly
***CAUTION - UNDER CONSTRUCTION TO ALLOW YOU TO DESTROY YOUR COMPETITION***
The stock VG block is limited to make around 800 WHP to be able to run reliably for extended periods before the bottom end tears itself apart. The stock main girdle is cast iron and while it serves the VG's original 300 HP well, above 800 WHP it's a grenade with the pin pulled.
There isn't enough material in the block to machine for 4 bolt mains, so BDE has designed a bedplate which bridges the main caps to the oil pan rails. This design takes advantage of increased overall fastener preload with the oil pan bolts now contributing, the structure is much stiffer and deflects less when a load is applied to it, has a higher natural frequency to combat cap lift due to harmonics, and the material (1045 steel) tensile properties are higher than the stock iron girdle.
While designing the bedplate we decided to integrate a passenger side "power kickout" into it. The power kickout makes room for oil that's being roped around with the rotating crank and rods to shear away from this internal tornado, return to the sump, and reduce parisitic power losses.
It's not just as simple as making a chunk of steel to replace the OE girdle, several other stock parts needed to be redesigned to get the bedplate to fit. These parts include the rear seal retainer, oil filter tree, oil pump pickup, and oil pan. BDE has gone to extensive lengths to redesign all of these parts to work with the bedplate and create a complete package.
Package Combo Includes:
1045 billet steel Bedplate
6061 aluminum front oil pump cover
6061 aluminum rear seal retainer
Z32 specific 8 quart aluminum wetsump oil pan
Oil pump pickup tube
Remote oil filter block adapter
All special bolts and o-ring gaskets
This is not a bolt-on item, your block will need to be 100% disassembled to fit this part. At a minimum, the main cap registers, oil pan surface, and main bores will need to be machined by a qualified machinist. BDE will supply instructions with tips on how to machine your block.
Price - $3999.99
Click on the images below for a larger view (this will open a new window).