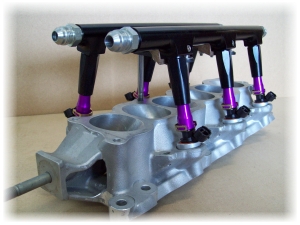 BDE VG30DE(TT) Top-Feed Fuel Rails

Build your kit from the table below by selecting either STOCK INJECTOR DEPTH or BOLT-ON configuration and then pick and choose from the optional: MODIFICATIONS FOR CLEARANCE, CORE CHARGES, ARP BOLT KIT, and INJECTOR DYNAMICS INJECTORS.
Planning to run E85? Click here to learn about E85.
Different views of the kit components are available below. Click on the image for a larger view. (this will open a new window)