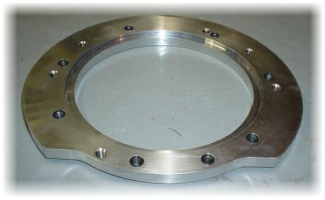 BDE TH400/TH350 Adaptor for Nissan RE4R03A Bellhousings
Includes: adapter plate, hardware, and necessary modification to any Nissan or Infinity bellhousing originally from a RE4R03A transmission. VG30DETT bellhousing cores are available through BDE, all other types currently must be provided by the customer. The BDE Adapter is designed to work with any TH400 or TH350 that has been properly machined for a JW Ultrabell. Compatibility has been confirmed with VG, RB, KA, and VH series of bellhousings which were used on RE4RO3A transmissions.
Price - $600.00 (If you do not supply a bellhousing, Core Charge Applies)
Pictures of the adapter installed alone and with bellhousings are available below. Click on the image for a larger view (this will open a new window).