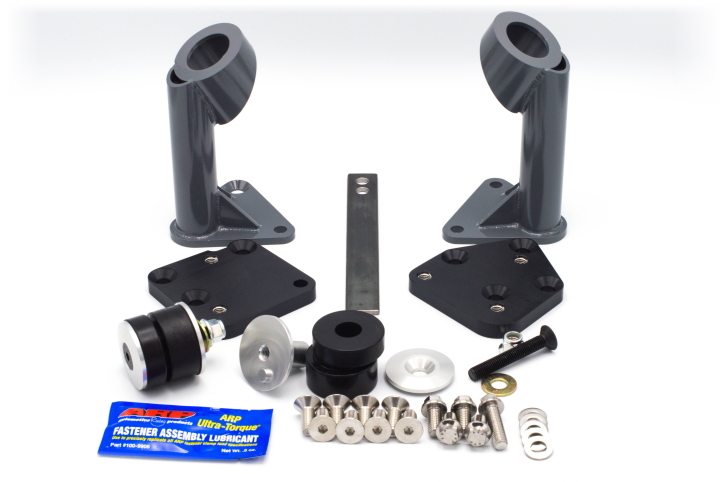 Low Profile VG30/Z32 Engine Mounts
BDE VG30/Z32 Low Profile Engine Mounts were designed from a clean sheet of paper. The OE cast aluminum and bulky rubber mounts have been replaced with TIG welded tube steel and a pair of Energy Suspension® polyurethane bushings. These bushings isolate engine vibration only... in other words, by design, the BDE mounts do not rely upon the bushing material's tensile strength or bond strength to keep the engine in place. Instead, the tension forces that tear apart stock mounts are contained with high-strength components and ARP and SS flat bolts while the engine is allowed to simply "float" within a polyurethane cushion. In addition, BDE Low Profile mounts have been designed to provide clearance for 3" to 4" air intakes found on larger Garrett turbochargers which are becoming more common on Z32s.
BDE is the originator of this design, beware of rip-offs or cheap imitations that use unknown materials, poor welding and questionable bushing quality. BDE Low Profile mounts are 100% made in the USA with Aerospace Materials Specification certified materials, TIG welded by a certified welder and use genuine Energy Suspension® polyurethane bushings.
Price - $390.00 (with ARP/stainless steel bolt package)
Compare to Billet + Polyurethane Mounts
Different views of the engine mounts are available below. Click on the image for a larger view (this will open a new window).