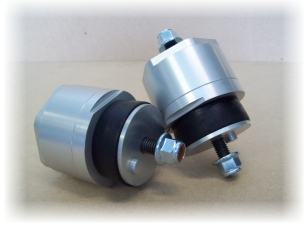 Billet + Polyurethane Z32, Z33/V35, Z34/V36 Engine Mounts, R35 GT-R Transmission Mounts
The BDE Billet + Polyurethane mount family keeps growing! Whether you have a 300ZX, 350Z/G35(V35), 370Z/G37(V36), or R35 GT-R (transmission mounts), BDE has you covered. You can take advantage of the same proven BDE vibration isolator to replace the OE rubber mounts with direct replacement BDE Billet + Polyurethane mounts.
The BDE vibration isolator design is unique in that it 100% mechanically contains excessive engine movement with high-strength 6061-T6 aluminum construction and grade 10.9 hardware. By design, the Energy Suspension® polyurethane bushings are preloaded during assembly to ensure both upward and downward forces are controlled at all times and the polyurethane material is never placed in tension.
In contrast, stock engine mounts are preloaded only by the weight of the engine/transmission sitting upon them. Unfortunately this leaves an enormous window for upward movement which imparts a tensional force into the relatively weak rubber material and its bond to the mount's metal shell, effectively fatiguing the material and weakening it. Eventually the stock rubber will tear and the mount becomes useless at controlling engine movement.
Other features of BDE Billet + Polyurethane engine mounts are:
Maintains stock engine height
OE locators are retained to work with the original cast aluminum engine brackets and chassis slots
Clear anodized 6061-T6 billet aluminum construction
Grade 10.9 fasteners with applicable mounting hardware included
Energy Suspension® polyurethane bushings
Comparable cost to OE mounts
Z32/300ZX weight (each): stock 2.67 lbs, BDE 0.91 lbs
Z33/350Z weight (each): stock 4.69 lbs, BDE 1.29 lbs
Z34/370Z weight (each): stock 3.42 lbs, BDE 1.47 lbs
Z32, Z33/V35, Z34/V36, R35 GT-R mounts are all exclusively available through Concept Z Performance
Different views of the engine mounts are available below. Click on the image for a larger view (this will open a new window).